Tropheus - Tropheus are an extremely popular genus from Lake Tanganyika. They are highly active and aggressive, especially towards each other. The Tropheus are grazers, and need an exclusively plant-based diet. They need to be kept in large groups in large tanks, such as 20 fish in a 100 gallon tank. Being kept any other way or in a smaller tank usually ends in disaster. Of the over 50 races and 4 distinct species from this genus, only certain ones should be kept together to prevent interbreeding. There are few fishes which make suitable tank mates for Tropheus. These include Eretmodus, and the larger Julidochromis & Neolamprologus.


Tropheus duboisi
(Juvenile)


Tropheus moorii
"Bemba Orange Flame"


Tropheus brichardi
"Mpimbwe"


Tropheus moorii
"Bulu / Cherry Spots"
Tyrannochromis - Another group of large fishes from Lake Malawi. They are predatory, polygamous mouthbrooders. They are moderately aggressive, but should not be kept with any fish small enough to swallow. 100 gallons or more is acceptable. (Formerly Haplochromis)
Xenotilapia - This is another genus of "Goby Cichlids" From Lake Tanganyika. They are very delicate and sensitive. They are relatively non-aggressive, and stay small, so they should be happy in an aquarium as small as 30 gallons. However, male can be very aggressive towards each other when courting. They are micro predators.


Xenotilapia ochragenys "Moliro"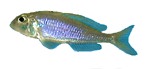 Xenotilapia flavipinnis "Burundi"